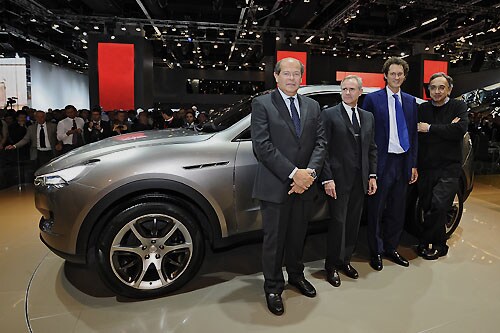 Maserati
is wasting no time selecting their new team to head its operations moving forward to become a global luxury automaker, recently naming their new CEO of Maserati North America and global chief marketing officer (CMO).
Chrysler
Vice President of Network Development Fleet Operations Pete Grady will become the new CEO of Maserati operations in North America, while Chrysler brand CEO Saad Chehab will take over as Global CMO.
"All of these appointments represent important recognition of the positive contribution that each individual has brought to the organization," Chrysler and
Fiat
CEO Sergio Marchionne said in a statement. Marchionne himself has helped lead Chrysler and Fiat back from the depths of doom, while imparting wise decision-making and leadership skills to those around him. Its hard to believe that Marchionne won't have some sort of role in leading Maserati towards its goal of becoming a major global luxury automaker by 2015.
Maserati has high hopes for its brand within the next few years. Ownership would like to see the brand closer to its ambitious, but attainable sales goal of 50,000 cars sold by 2015. In 2012, Maserati only sold 6,300 cars total, nowhere near the 50,000 goal just a few years off. This year, however, Maserati has seen record sales growth behind Marchionne and Chrysler/Fiat. Through September, Maserati has sold over 22,000 cars, more than double its previous record of 9,000 sold in 2008, and will only be bolstered by the introduction of their new model in November, the
Ghibli
.
We're no fortune tellers, but with a year like Maserati's having, there's only green pastures ahead for the luxury automaker. And that bodes well for the other Italians in their neighborhood: Fiat and
Alfa Romeo
.