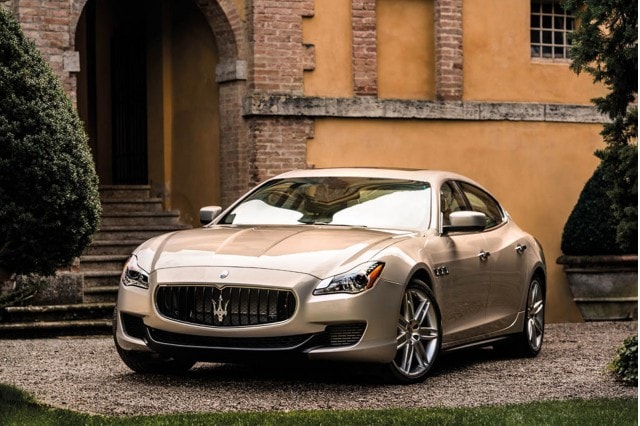 Image Credit: The Car Connection
History
The new 2014 Maserati Quattroporte is a luxurious update to the previous generation Quattroporte model, designed by Lorenzo Ramaciotti. Maserati put a lot of work and special consideration into their flagship model's sixth generation, giving Ramaciotti a Maserati-only department inside the FIAT Group's Centro Stile design headquarters near Turin, Italy.
Ramaciotti's work certainly paid off, with a larger, sophisticated and bold model that is worthy of wearing Maserati's signature Trident emblem within its oval-shaped grille.

Specs
Maserati gave its new Quattroporte sedan great power under the hood, with a few engine options available to buyers. We at Kelly Maserati offer our Maserati customers three engine choices: a 3.0L V6 engine with 404 horsepower and 405 lb.-ft. of torque, which will have owners going 0-60 in only 5 seconds, another 3.0L V6 Q4 which designates it as an all-wheel drive model, and the Sport GT S model, a 3.8L V8 potent beast capable of 523 horsepower and pushing out 524 lb.-ft of torque. The 2014 Quattroporte Sport GT S travels 0-60 in only 4.7 seconds, though some automotive journalists believe 0-60 in 4.2 seconds is attainable.
The Italian luxury automaker also improved interior space by extending the wheelbase of the Quattroporte by 4-inches, and widening the sumptuous sedan by 2.5-inches.

Price
Those interested in the latest Maserati Quattroporte in the New England area can find them readily available at our new Kelly Maserati dealership in Danvers, MA. Price will vary depending on the Quattroporte model selected. However, the new 2014 Maserati Quattroporte's MSRP is a reasonable $102,500. This makes the Quattroporte highly competitive, and a great value for anyone interested in the beautiful Italian sedan.

Click here for our current 2014 Maserati Quattroporte inventory