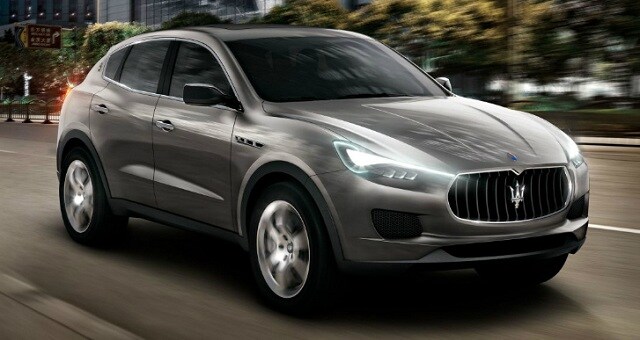 As the automotive market continues its shift towards more SUV/Crossover models, luxury automaker
Maserati
shares that vision with its new Maserati Levante model expected in early 2016.
The brand believes the Levante model has the potential to open up a new segment of auto shoppers unlike Maserati has ever seen before.
In a
recent story from Auto News's Dave Guilford
, CEO of Maserati North America Christian Gobber told Auto News "adding the Levante would double the potential customer base from that of the current brand lineup."
His feelings were echoed by Maserati marketing director James Cowan a few weeks later, who told
Autocar he believes the Levante will be a "game-changer."
"It will be our biggest seller in many markets and will attract almost universally new customers to the brand," said Cowan.
The Levante SUV/Crossover draws its styling cues from the Kubang concept debuted back in 2011, and when released, will have the power to match the sharp design seen on the outside.
According to an original release from
Fiat Chrysler Automobiles (FCA)
, the Maserati Levante will come with a 3.0L V6 engine, and will eventually offer a 560 HP V8 engine by 2018.
As for the Levante's interior - well, we at
Kelly Maserati
are like the public, and eagerly await the arrival of the Levante to the
North American International Auto Show (NAIAS)
in January 2016 to see what the interior of the Levante will look like.
It is quite clear that Maserati is targeting the premium crossover segment with the Levante. Offering such an upscale and powerful SUV/Crossover is a bold move from a sports-driven automaker like Maserati.
Then again, should we really expect anything less than bold from perhaps one of the most daring automakers ever?