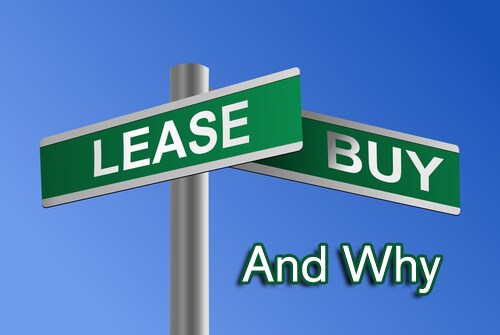 When it comes to shopping for a new vehicle, the absolute first question is: Can you afford a new vehicle? Answering that question may lead to a little bit of research on your part, but figuring out finances should always be the start any purchase decision. 
There are pros and cons to buying and leasing that might help you decide how to finance your next car. For example, a lease requires little or no money down and offers lower monthly payments. But when the lease ends, you have no car and will need to go shopping again. 
On the other hand, buying a car is more expensive initially and the monthly payments are higher. But at the end of the loan, you will own a car you can drive for as long as it runs.
Here are a few more factors to consider while deciding between leasing and buying:
Leasing
You can drive a more expensive car for less money.
You can drive a new car every few years.
There are no trade-in hassles at the end of the lease.
Buying
There's more flexibility. You can sell the car whenever you want.
There are no unexpected mileage penalties for increased driving.
In the long run, your car expenses will be lower.
You have the right to modify your car to your tastes.
If you are still unsure whether to lease or buy, try letting the numbers help you make the right decision. Go to Edmunds'
Purchase Calculators
to calculate a monthly auto loan payment vs. a monthly lease payment.
If you have any questions about leasing or financing a new vehicle after reading this information, please feel free to contact our team by using the form located to the right on this page. We look forward to hearing from you!